Winter Staff Days has come and gone but we are still working through what God has shown us during our time together.
All Ternopil staff gathered for three days to pray and hear form God concerning the future of the Ternopil YWAM base. We wanted clarity in the future planning, we wanted new ideas, nations to target, and a vision for the future. Of course outside of all this, we wanted to just be together and to have fun as a family.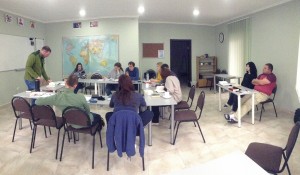 One of the things we did was study the church in Antioch. We have had several people give a word for the Ternopil YWAM base that they should be like Antioch. Sounds cool, but what does that mean? We really did not know. What I would like to do is to share our Bible study so that you can better understand what we hope to achieve.
Timeline
40- Missionaries come to Antioch and preach to Gentiles (Acts 11:20)
42- Barnabas sent from Jerusalem to visit Antioch (Acts 11:22)
43- Barnabas leaves Antioch to look for Saul in Tarsus and brings Saul to teach (Acts 11:25-26) They remain in Antioch for one year.
44- Prophet Agabus visits Antioch (Acts 11:27-28), prophesied a famine in Roman empire.
44- Antioch church sends Paul and Barnabas to Jerusalem with offering to help with famine (Acts 11:29-30)
45- Paul and Barnabas return to Antioch with John Mark (Acts 12:25)
46- Paul and Barnabas sent out on 1st journey (Acts 13:2-3)
47- Peter comes to Antioch (Galatians 2:11, 12)
47- Confusion comes from Judaizers (say believers must be circumcised)
48- Paul returns to Antioch (Acts 14:26-28) and opposes Peter (Galatians 2:14)
48- Jerusalem council held (Acts 15 & Galatians 2:1-10)
??- Judas & Silas go to Antioch with Paul and Barnabas (Acts 15:22)
49- Paul teaches in Antioch (Acts 15:35)
49- Paul leaves for 2nd journey
52- Paul returns to Antioch (Acts 18:23)
53- Paul leaves for 3rd journey
270- First Bible School is founded
Main themes
#1 Learning– Acts 11:25-26, 42-43AD
~Barnabas brings Paul to Antioch to teach and they remain there teaching for one year.
-Spent time teaching and studying God's Word
#2 Concern for others– Acts 11:29-30, 44AD
~A famine is prophesied and the Antioch church takes an offering to send to the church in Jerusalem
-They were not inwardly focused
-They did something for people outside of their bounds
#3 Discipleship– Acts 12:25 & 15:22, 45 & 48 AD
~Paul & Barnabas return from giving the Antioch gift in Jerusalem and bring John Mark with them. Later brought Judas and Silas with them.
-Bring people into what you are doing
-Recruit, train, mentor
#4a Send– Acts 13:1-4, 46AD
~Antioch church commissions Paul & Barnabas on their first missionary journey.
-They sent some of their best teachers
-They didn't worry about what would happen without their best teachers.
4b Diversity
-The body of believers varied in nationality, economy and religious background
Barnabas- from Cyprus
Niger- from Africa
Lucius- from Africa
Mamaen- Roman nobleman
Saul- Pharisee
4c Time for Holy Spirit
-Believers were praying and fasting together
-They heard the Spirit speak and they obeyed
#5 Accountability– Acts 14:26-28 & 15:35, 48 & 52 AD
~Returning from their missionary journey to the place that they were sent from
-Shared a report after their journey
-Spent time with the church after their return
#6 Interdependence– Acts 11:22, 29, 15:30
-Churches worked together
-Shared resources and helped each other