While everyone else was dressing up and collecting candy in the states, we celebrated Thanksgiving. Sometime ago, we decided to pick a new day for a day of Thanksgiving. This was for two reasons, at one point there were more Canadian staff than American and Canadians have Thanksgiving in the beginning of October. We needed a day somewhere in the middle of the two Thanksgivings. The second reason was, we thought it was funny to choose one holiday unique to a particular nation and have everyone celebrate it despite where they were from. The American holiday of Thanksgiving didn't have much meaning to anyone else besides Americans. When we created a new day and made it all about being thankful, it had a new meaning and everyone could really get into the holiday. As a base, we chose the last Friday in October to be our day of thanks and this year that happened to be Halloween which is not celebrated at all here.
Besides the feast of food, we introduced some new games. We hung apples from string and had an eating contest. The kids loved it and even some adults got into it. This was the first time that we had played games during a family night. We had pumpkin bowling where we had to roll a small pumpkin down into squares with point values. This was a fun time filler for everyone. We played another game before we moved into sharing what we were thankful for.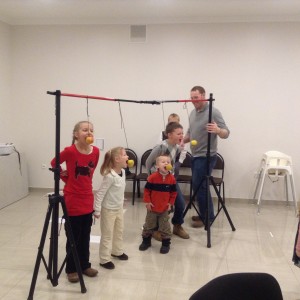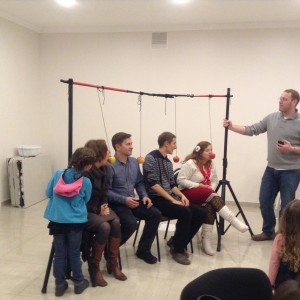 Now we did not just stand up and share what we were thankful for, everyone does that. We had everyone sit in table groups and within their groups, share what they were thankful for and then come up with a creative way to present what the group was thankful for. We had some great presentations! We had a group rap, we had some creative readings and a few skits. Everyone enjoyed the process of sharing and laughing with one another.
The evening ended with a dessert contest. When I originally announced the contest, I told people that the dessert had to have pumpkin in it. A few people had big eyes and worried looks on their faces and I suddenly remembered that pumpkin is not a common food in Ukraine and most people don't know how to cook with it. I reworked the required ingredients to include pumpkin or apple. After all the scared faces and worried responses, I was the only one to submit an apple dessert entry!
We randomly selected two judges who had a nibble of each. There were seven entries; two pies, a pumpkin chiffon cheesecake, two types of cupcakes, some tarts and my apple pie. Since there were two judges, there were two winners. The pumpkin chiffon and one of the pumpkin pies won! There was a plethora of dessert options for everyone to choose from!