I don't know what everyone else thinks of their honeymoon but I'm quite sure Lance and I had the best one ever!  Seriously.
Our first few days were spent in Gig Harbor, very peaceful and quiet, we hardly saw anyone.
Our next 5 days were spent in Port Townsend at one of my neighbor's cabins. It was right on the water in a quiet neighborhood. It was here that Lance and I discovered how much fun it is to cook together. We loved it. In Port Townsend, we saw a play called "The 6 Rules of Marriage." How funny that such a play was there while we were in town! We met a great couple that had been married for 50 years, and they gave us their advice for long marriage. We also visited some sites in the area.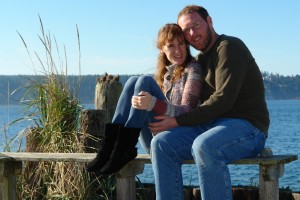 After Port Townsend we made our way around the peninsula. We spent a night in Neah Bay where the motel owner's son was a missionary in Ukraine! Crazy connection! We continued around for a night at a bed and breakfast in Forks. Little did we know that this place was a hotspot for Twilight fans. They served a scrumptious breakfast of stuffed French toast, did I say it was yummy?

Then we drove down to Seabrook near Ocean Shores. Here we had our own little cabin with a kitchen near the beach. We played shuffleboard (I won), horseshoes (Lance dominated) and soaked in a hot tub near the woods. At one point some raccoons popped out from the porch and looked as though they wanted join us in the tub, but luckily the noticed Lance's massive muscles and thought better of it.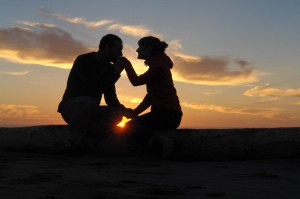 After Seabrook we made a quick stop in Auburn to try and take care of some business i.e. opening gifts, starting to attack the mountain of thank you cards to write and starting to change my name.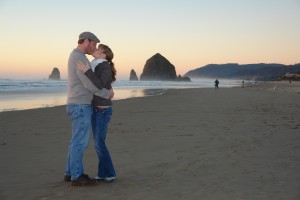 Then it was off to Newport, Oregon where Lance's family has a cabin right on the beach with a gorgeous view of a lighthouse. There was a wood fireplace and our room looked out over the ocean so could we fall asleep to the sound of the waves crashing. It really was bliss. In Newport, we had fun going around to the different beaches and exploring, visiting Ripley's Believe It or Not, and filling up on fresh seafood. We loved every minute of it!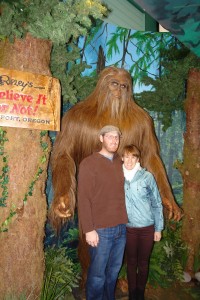 When our week in Newport was finished, we headed to Culver, Oregon for our stay with Lance's family. Now we are planted here for the month of November catching up on people's lives and sharing our own.