It is crucial that we spend time with our staff to communicate plans and expectations as well as just have fun and pray together. We try to have several days a year that we can set aside for just being together. Two days before Lance and I left, we had our staff day.
We could only squeeze in one day but it was a great day for communicating our plans for the future and to hear from everyone. We communicated our plan of having three months for staff togetherness and that everyone should be ready to participate and be present during that time.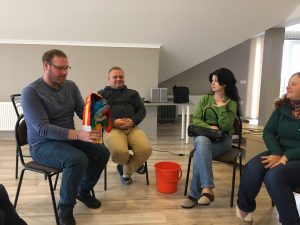 We also wanted to hear from everyone what they thought our base vision was. This might seem simple but we have wanted to rework that for years and just have not felt ready for it so we want to slowly work into it and this was one way to start that process. We gave two teams random objects and asked each team to use the items in describing what they thought the vision was. This gave us some direction and understanding of where everyone was at in regards to the vision. It was fun, simple and informative.
And to end our time, we had a team craft that involved a world map and decoupage. Since our building is still fairly new we are ever so slowly decorating and making it homey. This was one way we could all participate in decorating the base while emphasizing missions. All the kids could join in too and now it is a permanent reminder of our time together.