This summer was filled with training! Lance and I were both staff in the Equip school in Ternopil. This was the same school that Lance and I were students in way back in 2012. You can read all about it HERE.
Last summer we ran an Equip school in Ternopil, so this year it was our second time and everyone felt much more organized! We had 8 students from Russia, Ukraine, USA, and Finland. The effects of the school would spread even beyond those borders or any physical border though. Many students feel that what they learned in the school would not only apply to Discipleship Training Schools or just to YWAM or just to missions, it was life skills for followers of Christ.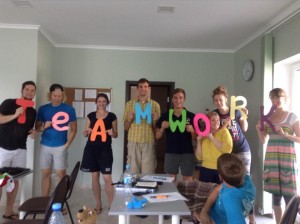 It was 7 weeks of intense training, full days of lectures, homework, time together, and preparation. We had all sorts of topics, from being a disciple to staff development, from confrontation to communicating with God, and from leading the classroom to crisis management. All different topics that leaders need to be trained in. Students were reading different books, they were making presentations and doing research.
Everyone graduated at the end of the 7 weeks and took home a plethora of resources. Many of those students have already jumped into leading schools and some are staffing schools that are about to begin. They are putting into action what they have learned and will pass on to others.
"You've heard my message, and it's been confirmed by many witnesses. Entrust this message to faithful individuals who will be competent to teach others." 2 Timothy 2:2