In 2014, my dear friend Joanne moved to Turkey to volunteer with a group there. We went through TESOL together in Washington, we taught English together for several years in Ternopil, we were in Romania together, we lived together and spent many late nights together watching old black and white movies.
When she asked if I would be in her wedding, I of course said "YES!" Turkey is not far from Ukraine so it really was not difficult for us to go. Joanne knew my parents and family from our trip to Romania and from my wedding so it was a fun bonus to have my parents join in the wedding festivities too. We were all able to travel together to Turkey with other friends from Ukraine.
We came a little early to be there for a bridal party and help with extra planning. We did get our nails done with all the bridesmaids and had extra time to fellowship.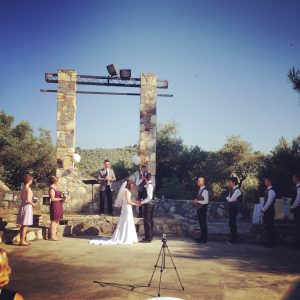 The wedding site was in an olive grove, how cool is that! Joanne had made simple decorations but the beauty was already there. Joanne met her husband in Turkey while he was also volunteering. They are both so loving and compassionate!

There were a few fun Turkish elements to the wedding that made it unique and memorable. One was that there was a bridal party dance, the bride and her bridesmaids are on one side of the dance floor and the groom and his groomsmen are on the other. The bride dances and her bridesmaids must copy whatever she does, then the groom dances and his groomsmen copy his moves. Let's just say it was hilarious! Turkish men know how to dance and have fun on the dance floor.

There are also lots of sparklers and flares and sparkler fountains, anything bright and flashy. They had sparkler fountains going all around the cake when it was brought out. Sparklers when they left and flares when they were about to leave.

We had so much fun celebrating Joanne and Isa. They will be a dynamic couple in Turkey.

After the wedding, we got to see more of the area and were able to take a day trip to Ephesus. We all enjoyed seeing the ancient ruins of the city that Paul writes of. There were interesting facades and motifs everywhere you turned, little passages to go through and colonnades to to stroll. It was quite a large area and of course there were mobs of people but we still enjoyed soaking in the history.

One Comment to