Last year, Megan's parents came for a visit for the first time. This year they decided to join a medical team in Romania and thought, "we are so close, why not come again?" We were happy to have them come again.
We went on a road trip to Romania to pick them up and bring them back to Ukraine. They were just in time to experience the final week of the Equip school and see what the team from America did. We warned them ahead of time that we would be busy that first week but they did great getting out in the city, eating out and buying things in the market without any help from us! We are thoroughly impressed!
After the school finished and we tied up a few things with the American team and then we were able to take both of them to some of our favorite places to explore.
As busy as we were, it was an honor to have family come and really see what we do.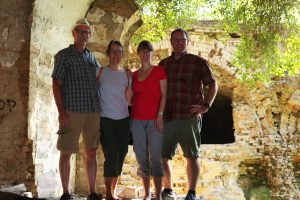 2 Comments to