While we had a team here from the states they decided to host a baby shower for us. It was a very sneaky surprise party, Lance knew about it but I did not.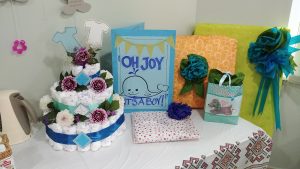 We had gone out with a few friends for dinner (they also knew about the party) and they were being very cryptic about what to do after dinner. I was slowly enjoying my meal while they were ready to go and said "well let's head out…" I was a little surprised they were not up for more chit chat but 'ok' I thought. They wanted to watch a movie but I was thinking 'you're leaving tomorrow, this is our last evening together why are we watching a movie?' Then as soon as we got back to the YWAM campus, our friends seemed to disperse and I could smell apple crisp. One of the team members found me and asked if I would like to join the team for apple crisp to which I obviously agreed. When I entered the room there was the classic "Surprise!" And I can tell you, I was surprised!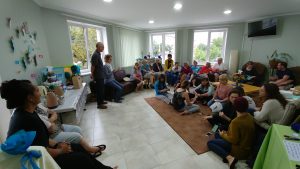 They arranged yummy treats and games for everyone to participate in. One game involved coming up with baby names for each letter of the alphabet. There were some great suggestions but also some funny ones, like Zit for example. 🙂
The team pooled their money together and got us a baby crib and bedding. Other guests gave us cute outfits and toys for little baby Roberts. We are also stalked with plenty of diapers and encouraging notes from many friends.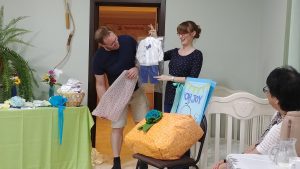 We were so blessed by this surprise party. Thank you to everyone that planned, prepared, and participated in the party!