2014 marks the first year that we had a women's Christmas Tea. One of our staff members used to live in Crimea and has hosted teas before so she was able to lead the way in hosting the first in Ternopil. It was a miracle that it all came together and a miracle that we had room for everyone. We originally planned for 30 ladies, but we had space for 48. Guess how many ladies showed up? Yep, 48 exactly!
All the the ladies on staff, cooked a whole bunch of yummy goodies, I can testify that the ladies on staff know how to bake yummy goodies. There is no doubt about that! We had two tables full of delicious and delectable treats and one table full of tea and hot chocolate.
We had door prizes galore and many people were surprised at the generosity displayed. I led a time of doing a craft together. Everyone got an orange, some cloves and a ribbon. It was easy for people to push the cloves into the orange to create design of some sort. It was a simple air freshener for the home.
We also had several games that involved people getting up and getting to know other ladies. I led a game where two teams had to race to unwrap a gift while wearing over-sized gloves.
Two of our staff members spoke during the evening. Both ladies were able to share of God's love and forgiveness to a crowd of women whom many had not heard of what God has done for them. It was the perfect way to share the Gospel during this season. There was also some live music to entertain the ladies and the evening ended with a Christmas ornament exchange where everyone got to go home with a new ornament for their tree.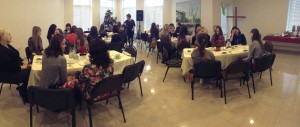 Everyone enjoyed the evening, everyone went home with a fun goody bag and a message of hope for the holidays.