Lance and I just celebrated our first anniversary together as a happy married couple!! We did not have a ton of time to get away, only the weekend but we managed to have an adventure nonetheless. We travelled to the city of Kaminets-Podilsky which has a lovely castle we've been wanting to see.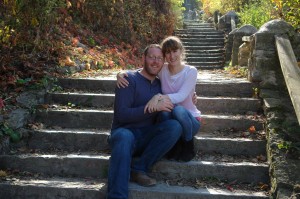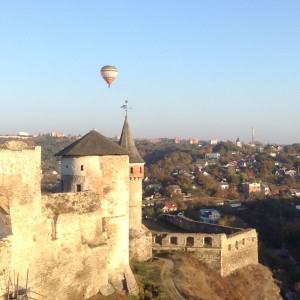 The only thing we regretted on our trip, was that we did not plan ahead and make reseverations. We made the terrible assumption that it was October and the tourist season would be over so we shouldn't have to worry. Wouldn't ya know, they apparently were celebrating Oktoberfest that same weekend we were there… After trying four hotels, we managed to find one that had two rooms left. It was a narrow escape that we hope to never repeat.
Our first stop was actually the view outside of the castle. As we walked up to the castle, there were hot air balloons just rising up over the castle. It was a spectacular site to watch 10 balloons float off into the distance. The castle itself is probably one of our favorites. We were free to explore most of the hallways and stairways through out the castle. There was a museum to look through, an archery contest was happening while we were there and there was a fabulous view of the city.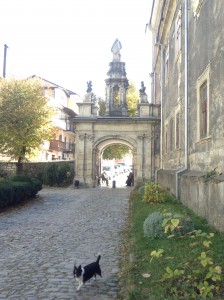 After the castle we made the trek into the city to find dinner which was an exhausting chore. We ended up simply buying from food vendors on the street. The city was alive with action and everyone was out and about. The weather was fair and perfect for festivities. We ended up back at our hotel completely spent but we did look through photos of our first year together. It was fun to remember what our highlights were and what our hopes were for the next year.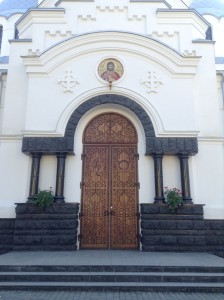 Breakfast also proved to be a difficult task but we did eat and then set off to explore more of the city in the daylight. We found some amazing sites and we were happy to walk all around the city before heading back home.
We made time to find two castles on our way back. We didn't really know what to expect we just had a general idea of where they were. Our GPS always proves to know the way, we found our way down dirt roads that I had no idea were considered roads. Despite the crazy routes we went, we did find the castles. Both were in ruins and no one was caring for them, we just simply hiked up to them and explored. Our last castle provided a beautiful view with the sunset and a lazy river below. It was a perfect way to end our anniversary weekend.