This was our third trip to the Balkans this year, once at the beginning of the year, then later in June. Both of those trips were with our own staff and team, this third trip was actually to meet with other people interested in starting something in Montenegro.
The YWAM base in Albania hosted this gathering and advertised to other YWAM locations to get people together with a common interest: to work in Montenegro. Lance and I and one other staff represented our base, there was a British man working at a base in Sweden, a Norwegian man working in Norway, another Norwegian man and a Dutch man both living in Albania, and several of the YWAM Albanian staff from various countries such as Canada, Ukraine, Brazil, Norway, Chile and Albania. We were quite a diverse group!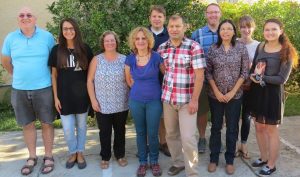 Lance and I really enjoyed this time since our previous trips were just with our own team, this time we got to have a more diverse viewpoint of Montenegro. We spent two days in Albania listening to a pastor serving in Montenegro, then praying for the country, and coming up with a strategy for our next two days which were to be in Montenegro. We decided to pray and ask the Lord where we should go in Montenegro, we felt to go to several cities.
As a group, we traveled to Bar, a city in the south where we talked to the pastor of church, then we went on to Tivat to hear from some German missionaries. We spent the night in Kaminari with a couple from Bosnia who have been working with orphans and in the morning we went to Niksic to visit with a pastor there and ended our time in Podgorica, the capital talking with missionaries and a pastor there. It was a whirlwind tour with lots of conversations and fun memories with new friends.
We see this time as super important and valuable for us as a YWAM location since we have chosen to target Montenegro for future work. It was encouraging for us to hear from other people to get new ideas we didn't think of and to have confirmation for some ideas we already thought about. We really believe that this is an important time for us and for Montenegro and that Ukrainians will be great missionaries, particularly to this part of the world, there are many similarities. Both countries have had communist governments, both use a Slavic based language, both are very warm-cultured, both are Orthodox, and both are super relationship-oriented.
We are truly excited for our future in Montenegro!