Megan and my recent season of being without a home has had us praying about the future and how we can move forward as a family. After much prayer and thought, we are sensing from the Lord that we will be in Ternopil long enough to settle our family here. After much thought and prayer, we have decided to start the process of raising funds to buy a house. As we have been looking for a place and getting our fundraising strategy ready, a huge opportunity came up and we are excited to share it with you.
Since January, we have been living at our Youth With A Mission facility after our landlady asked us to leave the apartment because she wanted to sell it. Though moving was not an easy thing for us, it opened up the possibility to actually consider the idea of purchasing a house. It just so happens that the house right next to the YWAM building came up for sale while we were praying about this and the owner wants to give us first preference! We feel peace about pursuing buying this property, but time is a bit tight, our neighbor wants to sell within the next couple months. We have been given a $50,000 loan but will need to raise an additional $25,000 to complete the purchase of the house and land (phase 1.)
Having lived at our YWAM facility these past months has been difficult due to not having our own space, however, we have loved the ability to be right in the middle of base community life. We feel that moving next door will have a positive effect on the culture of our community as we go into the future.
To be clear, Megan and I are planning on buying this property for our family, YWAM Ternopil will not be involved in the purchasing and developing of the property. We will be purchasing the land through a loan and money raised by Megan and I, not through YWAM Ternopil money. However, the way the properties sit together, we would be choosing to open up parts of the property for shared spaces (as shown in the picture below.)
By us owning the next door property:
· There would be a shared back yard with the base. This would allow for desperately needed outdoor activities which we really are not able to do at the moment.
· Eventually, we might be able to add parking for the base which will become increasingly needed due to a 9 story apartment complex coming in across the street.
· We would secure this property from developers as well as give opportunity for YWAM Ternopil to officially purchase it at a later time if they so desire.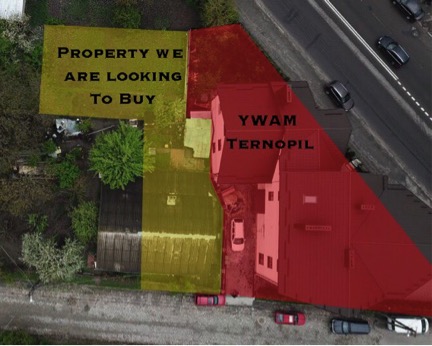 The Plan

Phase 1: The Purchase ($75,000+ approximately $5000 for bank fees etc.)

Purchase the property and move into the existing structure. This is an extremely old building with major structural issues. It is livable, but it is not a long term solution.

Phase 2: Build A House: (approximately $65,000)

Since the existing house is old and in need of major repairs, it would be more economical to build a new home at a more logical placement on the property.

Phase 3: Old Structure Tear Down and Property development (approximately $15,000)

Tearing down the structure is not straight forward being that it is part of a duplex. It could be a complex job. We would also need to add fencing and figure out parking as well as landscaping. It would also be nice to add some sitting spaces for students and teams to enjoy outside.

We would like to invite you to consider partnering with us in this project whether that is through prayer, finance or advice/help. For us this is a stretch of faith as well as skill set. We are continuing to seek godly counsel and wisdom from the Lord as we finalize our plan of how to raise the money needed.

If you want more information, have questions or input we would be more than happy to Skype or FaceTime. We are tentatively planning on coming to the states late summer-mid fall, so we would love to talk face to face as well.

We are excited to see what happens in these next months as we move ahead to find something where our family can sprout more roots! Thank you for your years of support for our family. We really appreciate it.

Q&A

Question: Why can't your organization give you money for this?

Answer: Youth With A Mission is different than many other mission sending groups in the fact that they do not play any role in the support raising process. They do not have any organizational funds to give to anyone for any reason. It is one of the foundational values of YWAM that each person is responsible for their own support.

Question: What will happen if you are ever forced to leave Ukraine for some reason?

Answer: The blessing of being next to the base is that there will always be someone to either live at our place or watch over it. Even if we have to be gone for a long period of time, the base can care for it and when we can return, we can sell it if needed.

Question: Will this be YWAM Ternopil's property?

Answer: No, this will be our own personal property. But… we understand that we will be in community and that the property will sometimes be used for YWAM activities. We want to be open and available for helping our YWAM community with what we have.

One Comment to